Alpujarra: a view on Africa
Hike in the Sierra Nevada, feast on a plato alpujarreño and roam through honey-comb white villages, reminiscent of a Moroccan douar.
Spend a splendid day in the Alpujarra, a unique area fraught with white Andalusian villages, terraced gardens, proud artisans, unique cuisine, ruined Moorish castles, olive mills and wild nature treks.
The Alpujarra ( or Alpujarras) is a mountainous region just one hour drive from Granada, spreading east- west, parallel to the Mediterranean, on the southern slopes of the Sierra Nevada mountain range culminating at 3492 meters high. Due to their remote location and coarse settings, these villages have long maintained their own unique traditions, crafts and cuisine throughout centuries, having most famously been known as the refuge of the Moors before and especially after the conquest of Granada in 1492.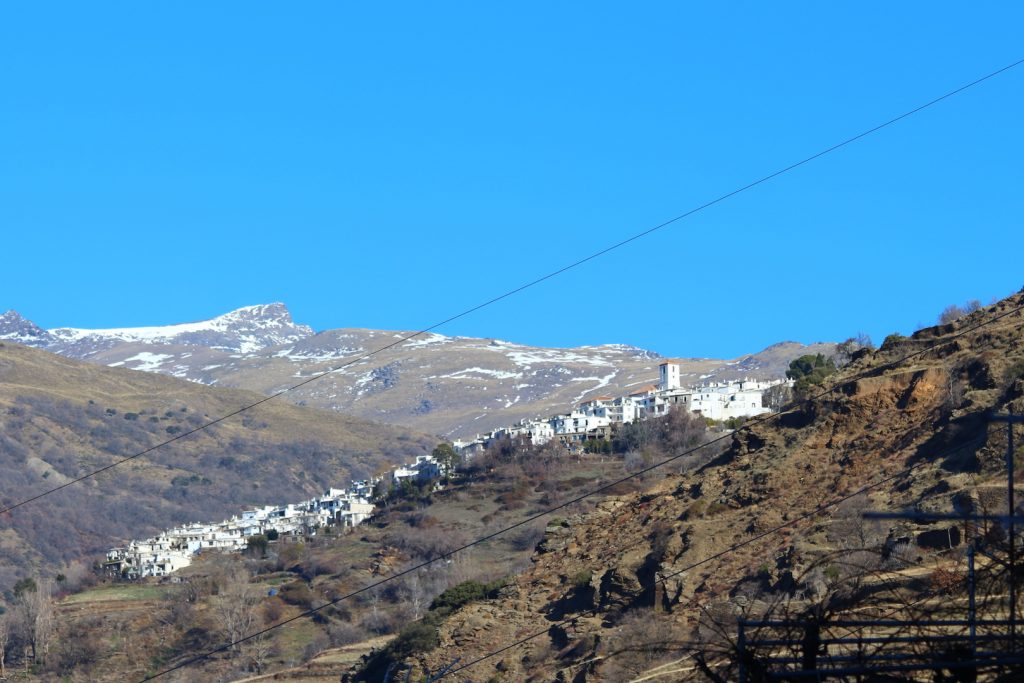 Once one leaves the highway, we reach Lanjaron, the main port of entry to the Alpujarras, graced with its own Arab castle, albeit only a ruin presently, and mostly known for its balnearium. The Romans had already laid out baths, making good use of the local water rich with iron salts. Shortly after Lanjaron, the road serpents and gains altitude, bedecked with sweeping vistas over rolling hills and lush, verdant valleys and olive orchards. In the distance, dominated by its church spire, formally a mosque tower, a white village dots the brindle swathe. Along the way, we can stop at a roadside country inn and sample a churro con chocolate, some welcomed calories for the walk ahead. We are now at the foothills of the Sierra Nevada, with its innumerous barrancos and manantiales, fraught with trekking opportunities and legends about bandoleros, hidalgos and monfies. Soportujar, the witchcraft village, opens on our left.
Later, we reach Pampaneira. We are now in the heart of Alpujarra: the villages, of a distinctly African character, contrast in a singular way with everything we can see in the rest of Andalusia. They owe this particular aspect to their flat roofs used as terraces, which also facilitate the passage, given the narrowness of the streets, from one house to another. Its uniqueness is also due to the very shape of the houses, an uncanny stack of cubes attached to a steep slope, akin to a waterfall. As in North Africa, in the Alpujarra we also find some covered streets and tiny decks bridging a house with its neighbor where access by the roof is not possible.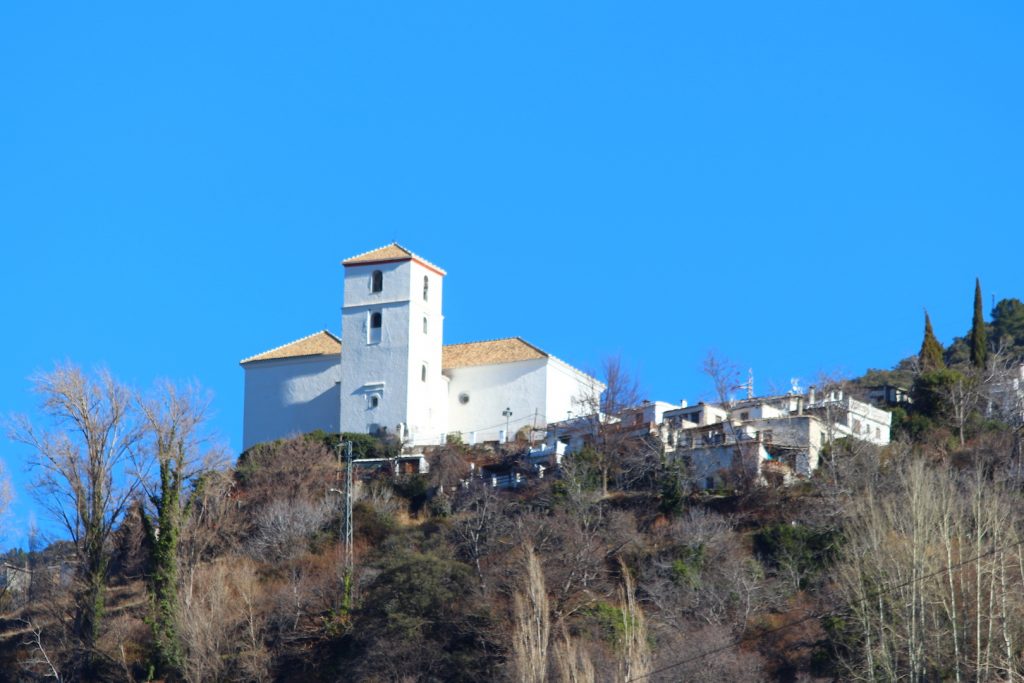 Aunque te laves la cara
con aguas de perejil,
no te quitaran las manchas
de los besos que te di.
( folk song- Trevelez).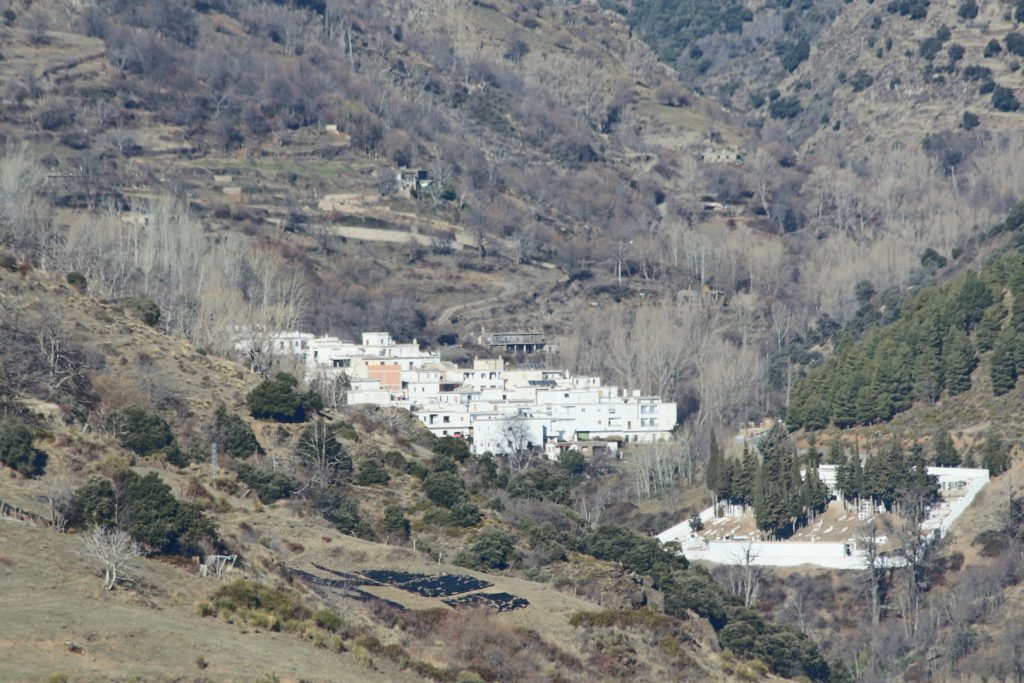 Here we leave the vehicle and venture out for a trek in the surrounding mountains and valleys. Forests of oaks and chestnuts, ruins of old Arab fortifications, olive mills, waterfalls, terraced gardens and springs will greet our route. And what to say of what sprouts from the soil ? There is hardly a month without its harvest: from oranges, lemons and almonds in bloom in winter to grapes, kakis, quinces and pomegranates in autumn.
After a hearty mountain walk, we'll sit down on a terrace and try the local cuisine. As everywhere else in Andalucia, the aceite ( olive oil) is a food staple and was once used even for oil lamps before electricity conquered the world, and Andalucia. If the olive oil, honey, wheat and the fruits had always been present in the local cuisine, other dishes were specific to the various populations inhabiting the area. 
The Moors introduced the almond/ dry fruit pastries, infinite varieties of bread, fresh goat cheese and made popular the lamb. Travelers in the area in 15th century talk about 'alcuzcuz'. Once the area was repopulated with people from Galicia, Castilla and other regions of Andalucia, other dishes were adopted: pork stews and casseroles, wild boar and deer and the ubiquitous jamon. Just as in Morocco, until a few decades ago, the staple snack of those working the land was constituted of tea, olive oil and freshly baked bread, albeit complimented by some hefty slices of bacon. The 'new' populations also mainstreamed wine production and Alpujarra counts nowadays with quite a few world- class bodegas.
Once famous throughout the world for the quality of its silk production, Alpujarra has nevertheless maintained a rich tradition of textiles and crafts: tiles, carpets, guitars, leather, ceramics and wicker are some of the trades that have stood the test of time. Why not witness first hand the weaving of a jarape or the shaping of a jarra ?
We suggest an early departure, the latest 9 AM. We shall return to Granada late afternoon/ evening.
Best time of year: all year round.
Price: 70 euros per person when 2 persons traveling;
60 euros per person when 3 persons traveling;
Book this day trip or build your own. We encourage to send us your ideas so we create something unique together.